Overview

Tribune Bay Outdoor Education Centre Activities
We specialize in one or multi-day team building and leadership programs. All our activities are customized to meet the needs of each group – from elementary students to university students to adult groups. Our programs are split into three categories plus team building: High Adventure, Ocean Adventure, and Island Adventure. Each category focuses on a team approach and ensuring everyone has a positive outdoor experience.
Team building and warm up
This is the first activity your group will do with us. You will be divided into small groups of 10-12 and with your program leader you will run through a series of activities that challenge your groups problem solving skills and develops group communication and cooperation. This activity is a prerequisite for all our high adventure activities. We also have evening programs to wrap up the day with your whole group after dinner.
---
Low Ropes Course
For more advanced team building groups, we suggest adding the Low Ropes challenge course. This is the next step in team building and trust-building. The Low Ropes course is 2-feet off the ground and features challenges that focus on even more cooperation and communication to help support each other and keep group members safe.
---
Evening Programs
Evening Programs
---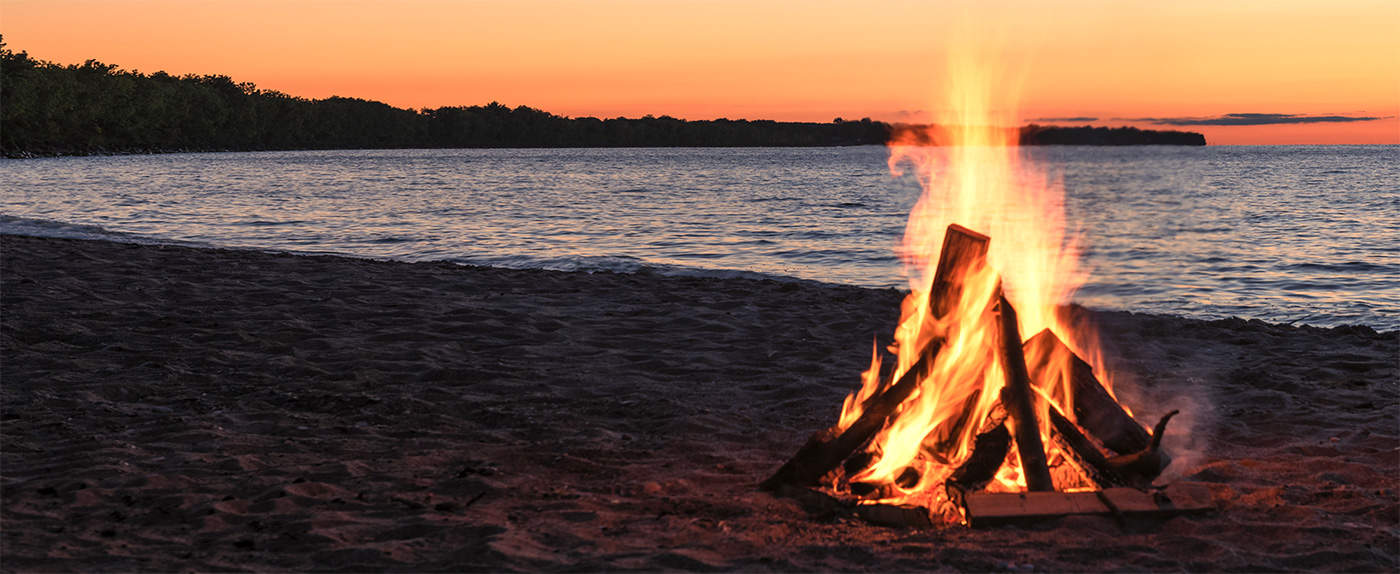 Wide Games
We have a series of wide games meant to run off some energy and unwind with your whole group after a busy day of adventure activities. The games have an educational spin to tie together the adventure activities and promote critical thinking.
Our most popular game is Predator and Prey, an animal role-playing game in the forest that includes searching or hiding from each other and looking for food and water to survive. Other game options are Stones, Wolf Prowl, and Signatures.
Campfire Program
Each day wraps up with our campfire program. We customize each program to your group. Campfire activities can vary from sing along songs for younger kids and families, to fun team-building games and focused discussions for older groups and adults.
We can even incorporate Skits and Talent Prep as an additional daytime program, to present at evening campfire.
If you are having your trip fully catered, we provide snack and a hot beverage as well. It's a great way to end the day!
High Adventure
High Adventure
---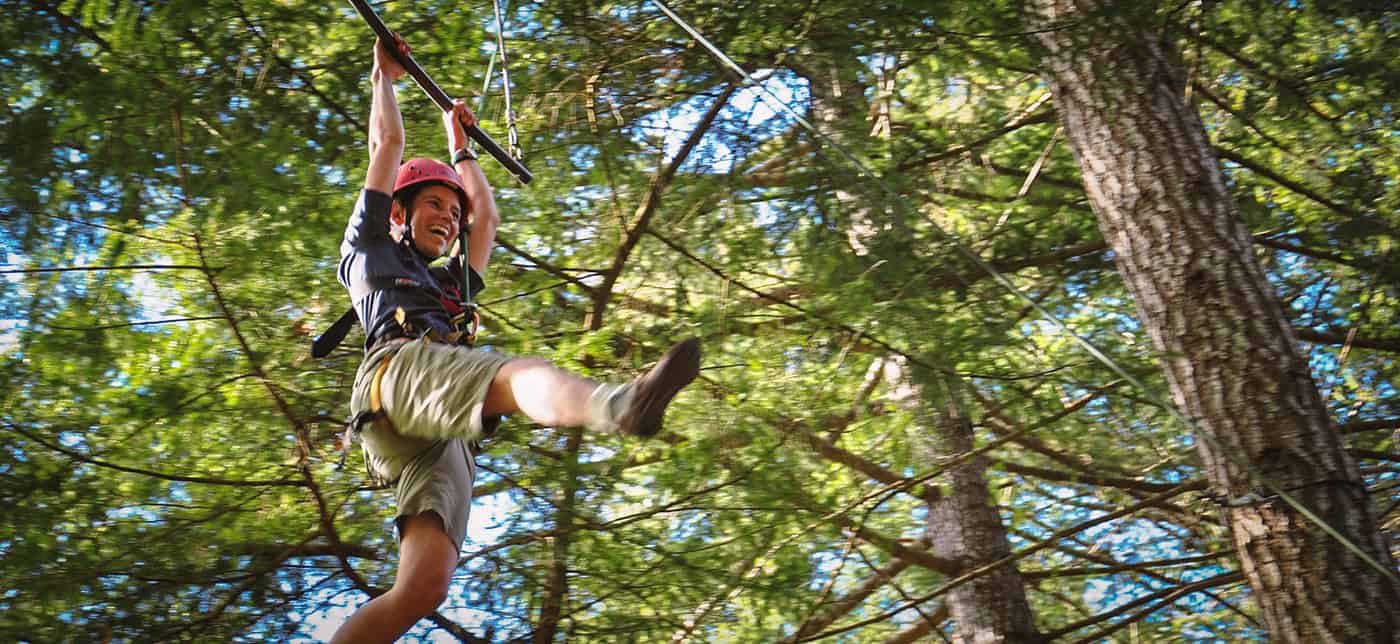 We have five high adventure programs to get you up in the trees and out of your comfort zone! Each high adventure program includes a review of all safety equipment and climbing commands used to communicate with your belayer. Our safety equipment includes: climbing seat harness, chest harness, helmet, ropes, and carabiners. All high adventure programs will be led by a trained Program Facilitator.
The best place to start is at our 50-foot Climbing Tower, a perfect way to get comfortable "at height" and test your skills with encouragement and support from your team. Looking for more of a challenge?
We also have a seven-element High Ropes course with two top-rope features and five self-belay features for older groups looking for an extra challenge in teamwork and communication.
Or, for something a little different, try Rappelling down the other side of our 50-foot tower. Rappelling allows you to lower yourself at your own speed, with assist from a staff belaying you from the top of the tower.
Our two additional high adventure programs really emphasize teamwork and communication.
Giant's Ladder allows you to climb in a team of 2, working together to help each other up the 45-foot ladder with the rest of your team hands-on in encouraging and supporting you while you climb.
The Leap of Faith is the grand finale to our high adventure programs. Harnessed and on belay, climb a 25-foot hydro pole to stand on top of the pole and leap to a trapeze bar hanging in front of you. This program is a favourite of many groups but is recommended in addition to at least two other high adventure programs to get you comfortable with the challenge.
Ocean Adventure
Ocean Adventure
---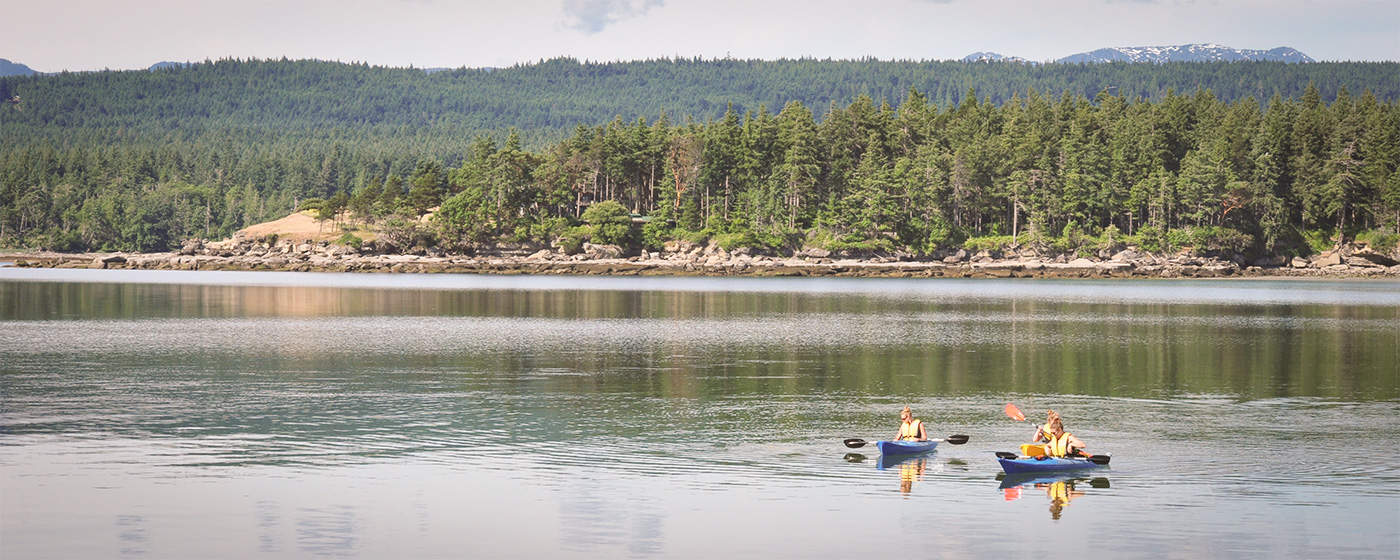 We have three ocean adventure programs to help you get out and enjoy the beautiful Tribune Bay. Groups can choose from Kayaking and Stand-Up Paddle Boarding (SUP). Each program reviews parts of the boat or board, paddle techniques, safety considerations, and the basics of maneuvering out in the water. Once our on the water, you will get a chance to work on your technique and go on a tour of the bay, sometimes wrapping up with a game or relay race to really test your skills.
All groups are required to use the safety gear provided by the Centre and be led by one of our trained Program Facilitators out on the water. Safety equipment includes: a PFD for Kayaking and SUP and a life jacket for the Boat.
Island Adventure
Island Adventure
---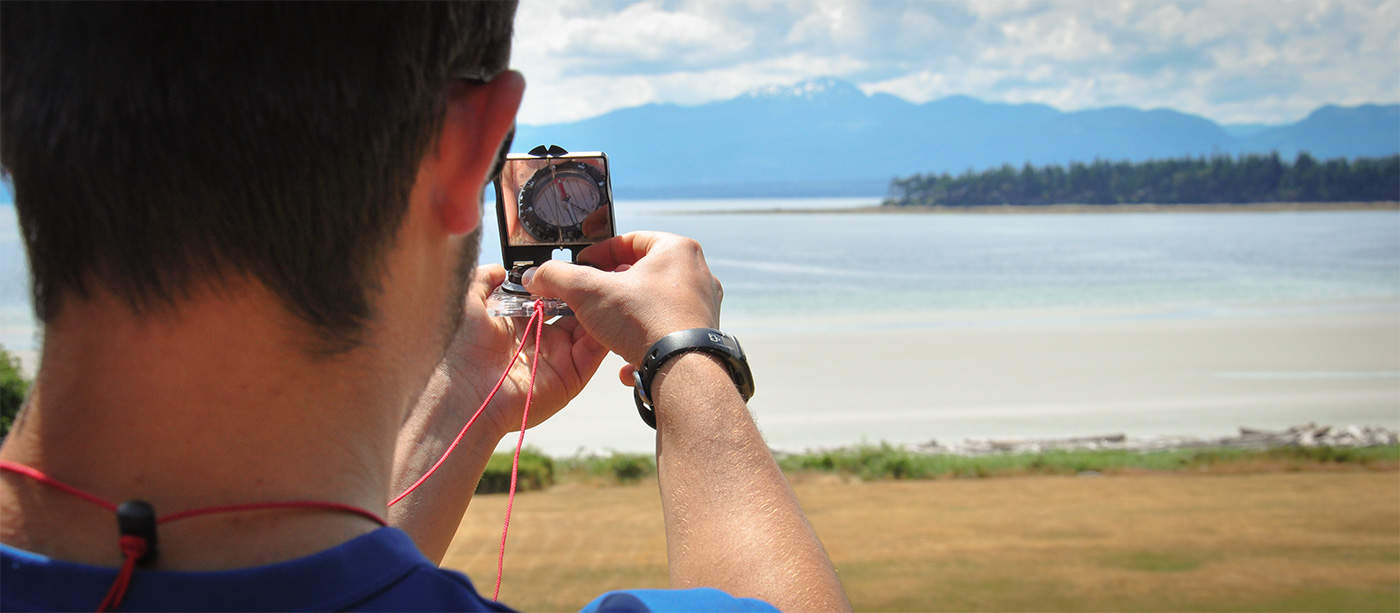 We have a large variety of hikes and educational activities to round out your trip here at TBOEC. From intertidal exploration to studying the local flora and fauna, discover more about the natural environment on Hornby Island.
The Lunar Beach Exploration is a short walk away from TBOEC and will lead you to a unique beach boasting a variety of rock formations and tidal pools. Time will be given for your group to explore the beach after you learn from our staff about the marine life and how to properly and safely experience the intertidal zone.
Our Forest Detective hike is an educational hit! Hike the Katimavik Trail and discover the variety of plants surrounding Tribune Bay Provincial Park. You will get to find these plants and present some details about them from a card provided by your Program Facilitator.
The Animal Adaptations program leads the group through a series of fun role play activities that teach students how to adapt to the surrounding environment to survive. This is an excellent prerequisite to our Predator and Prey evening wide game.
In Orienteering, learn how to properly read maps and understand the legend, scale, contour lines and finding north. Groups are sent out in teams of 2-3 and, using their map, find a series of markers hidden across the 17-acre TBOEC property.
Our Island Hikes include three hikes. To get to Whaling Station beach, take multiple routes in groups of 10-12 along the seashore to enjoy your packed lunch and some games on another beautiful white sandy beach. For a longer hike, walk from Tribune Bay Provincial Park to Helliwell Provincial Park  to experience the stunning bluffs that give a spectacular view of the Salish Sea, surrounding gulf islands, and Coastal Mountain Range. You may also spot some pockets of the Gary Oak ecosystem as well as cactus.